All Natural Granite & Marble kitchen countertops are factory treated with DuPont StoneTech sealers to repel liquids, greatly reducing the possibility of staining.  We also maintain a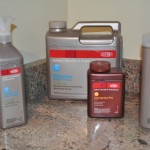 DuPont StoneTech stone care products that will help keep your countertops looking beautiful for years to come,  we have some stonetech products lake granite sealer and granite cleaner for sale.

Sealing Your Stone
Natural stone has been formed over millions of years. But improper care can ruin nature's beauty. Although we usually think of stone as a "hard" material, it is a porous material that can absorb spills and stains if left untreated. Sealing your stone with quality impregnating sealer will prevent most spills from damaging your investment.
Remember! Natural stone scratches natural stone, please take in consideration any
product/materials, artifacts that may contain natural stone.
| | |
| --- | --- |
| | Do use coasters under drinking glasses, especially if they contain alcohol or citrus juices. |
| | |
| --- | --- |
| | Do use trivets or mats under hot dishes or cookware. |
| | |
| --- | --- |
| | Do use place mats under china, ceramic, silver or other objects that may scratch your stone's surface. |
| | |
| --- | --- |
| | Do place a small rug or mat entryways to trap dirt and sand from regular foot traffic. |
| | |
| --- | --- |
| | Do dust countertops, islands, vanities, and floor frequently. |
| | |
| --- | --- |
| | Do blot up spills immediately to minimize permanent damage to the stone. |
| | |
| --- | --- |
| | Do clean surface by wiping with clean water or by using StoneTech Professional Revitalizer™. |
| | |
| --- | --- |
| | DON'T use vinegar, bleach, ammonia or other general purpose cleaners. |
| | |
| --- | --- |
| | DON'T use cleaners that contain acid such as bathroom cleansers, grout cleansers or tub and tile cleansers. |
| | |
| --- | --- |
| | DON'T use abrasive cleaners such as dry cleansers or soft cleansers. |
| | |
| --- | --- |
| | DON'T use alkaline cleaners not specifically formulated for natural stone. |